This post may contain affiliate links. When you click through and make a purchase, we may receive a commission, at no additional cost to you.
Located in the northern part of Miyazaki Prefecture in Kyushu, Takachiho Gorge (高千穂峡) is one of Japan's most beautiful natural attractions, offering incredible scenery and unforgettable experiences. This stunning natural wonder is the perfect destination for travelers looking for a relaxing getaway from the hustle and bustle of the city. In addition to enchanting visitors with its breathtaking beauty, Takachiho Gorge also offers a wide range of activity options, including an adventurous boat ride through the picturesque ravine formed by an eruption of nearby Mount Aso. It is also home to historical shrines and sacred sites deeply associated with local legends and Japanese mythology. This article will provide you with helpful ideas and tips to make the most of your time in Takachiho Gorge!
How to get to the Takachiho Gorge?
Major airlines like JAL and ANA offer convenient domestic flights connecting major cities like Tokyo, Osaka, and Kobe to the Kyushu region. A one-way flight from Tokyo Haneda Airport to Kumamoto Airport takes about 2 hours and will cost you around 20,000 yen. Alternatively, you can take the shinkansen which can take you to major train stations such as Hakata, Kumamoto and Kagoshima with few or no transfers.
Unfortunately, there is currently no train service connecting major cities to the Takachiho Gorge. Therefore, if you have an international license that allows you to drive in Japan, the easiest way to get to Takachiho Gorge is to rent a car. You can easily rent one at airports and most train stations, such as Kumamoto Station, Aso Kumamoto Airport, and Miyazaki Airport.
Renting a car will allow you to easily visit Takachiho attractions without having to worry about crowded public transportation. Some local bus companies, such as Sanko Bus and Miyazaki Kotsu, also run buses from Kumamoto and Miyazaki to the Takachiho bus hub.
What to do and see around the Takachiho Gorge
Takachiho's spectacular scenery is the area's main draw, but the gorge also offers plenty of things to do and smaller sites to enjoy. Here are some of our top picks for what you absolutely shouldn't miss while in Takachiho!
Boat ride on the Gokase River
Takachiho Gorge stretches for about 7 kilometers through rocky cliffs overlooking the beautiful Gokase River, and one of the best ways to enjoy the picturesque gorge is to take a memorable boat ride to the bottom of the gorge. Rental boats are available for 3,000 yen for 30 minutes, with an additional 1,000 yen per adult to be added. During the pleasant boat ride, you can admire stunning views of the surrounding nature that changes with the seasons. The boat rental service is available from 8:30 am to 5:00 pm and the maximum capacity is 3 passengers per boat. The peaceful setting of the spectacular gorge will leave you feeling refreshed and relaxed!
Manai shots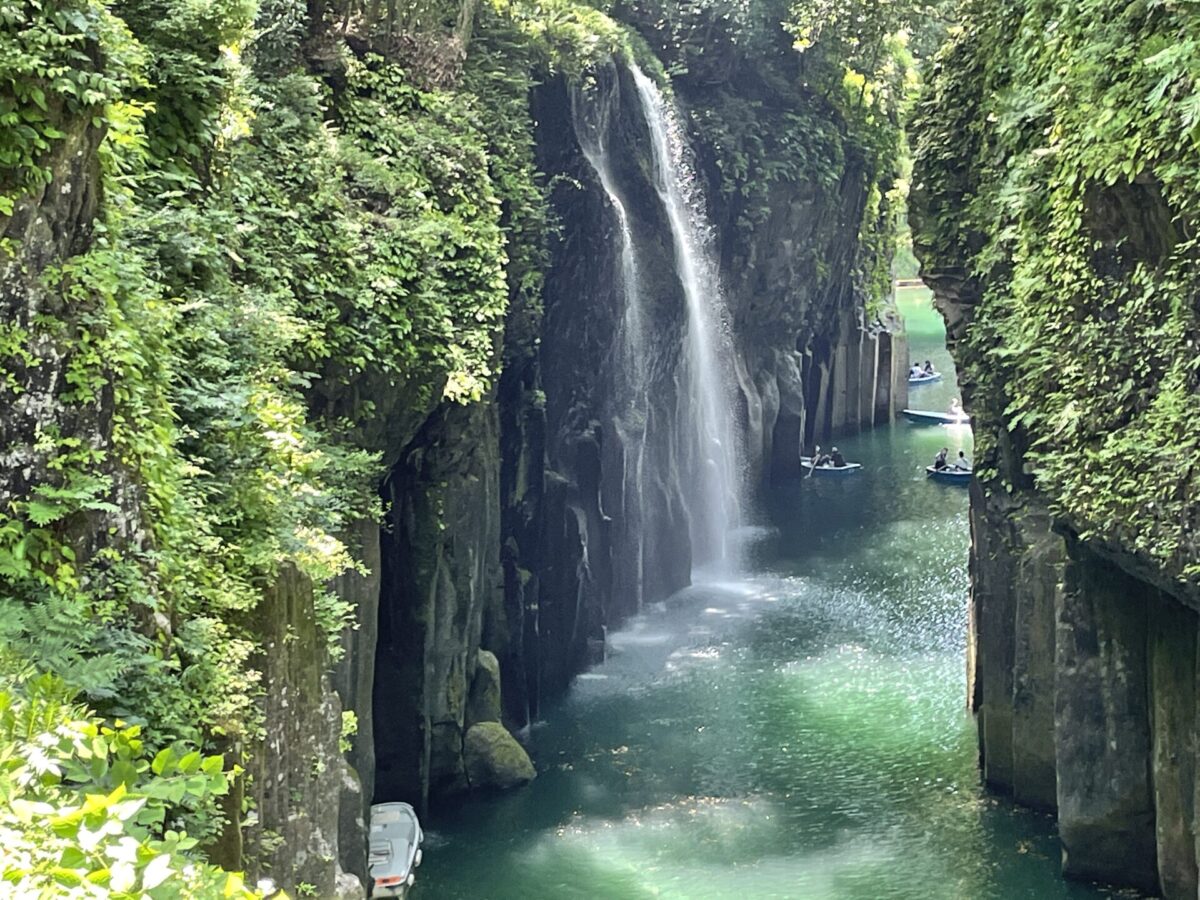 Manai Falls is a 17 meter high waterfall located in the Takachiho Gorge. This beautiful waterfall is considered one of the most beautiful waterfalls in Japan and is often featured in guidebooks and travel magazines as a symbol of Takachiho. You can see it from a trail overlooking the gorge, and it's popular to take photos from here. If you want a closer look, consider taking a boat ride, as this will get you very close to the water gushing out of the cliffs right in front of you. Manai Falls is beautifully illuminated at night twice a year, in summer and in winter.
Takachiho Shrine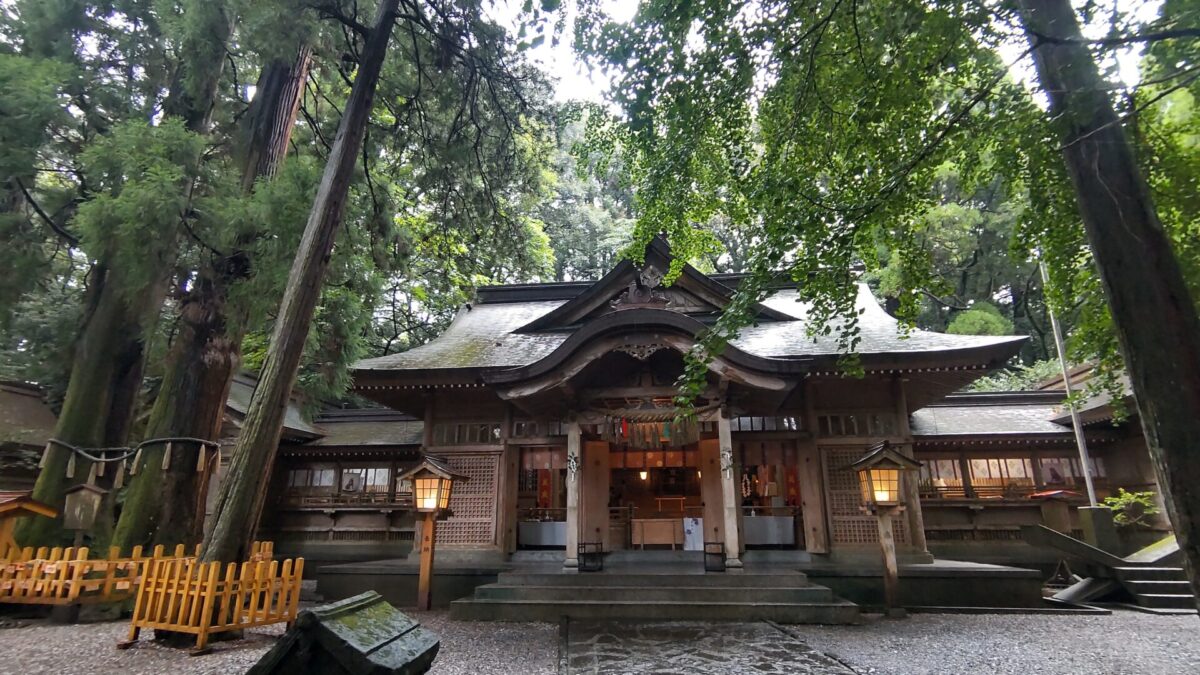 Founded 1,900 years ago, Takachiho Shrine is a sacred Shinto shrine dedicated to three generations of deities from Japanese mythology. It is about a 20-minute walk from the Takachiho Gorge and is easily connected there by a beautiful nature trail. One of the highlights of the sanctuary is the traditional Kagura dance show that takes place every night. The main hall is a beautiful wooden structure that is officially designated as an Important Cultural Property. The tranquil sanctuary grounds are home to towering cedars, making it the perfect place for a leisurely walk under the towering trees. Two of the cedars are 800 years old and have been tied with a sacred cord as they are believed to bring good fortune in love relationships and marriage!
Amano Iwato Shrine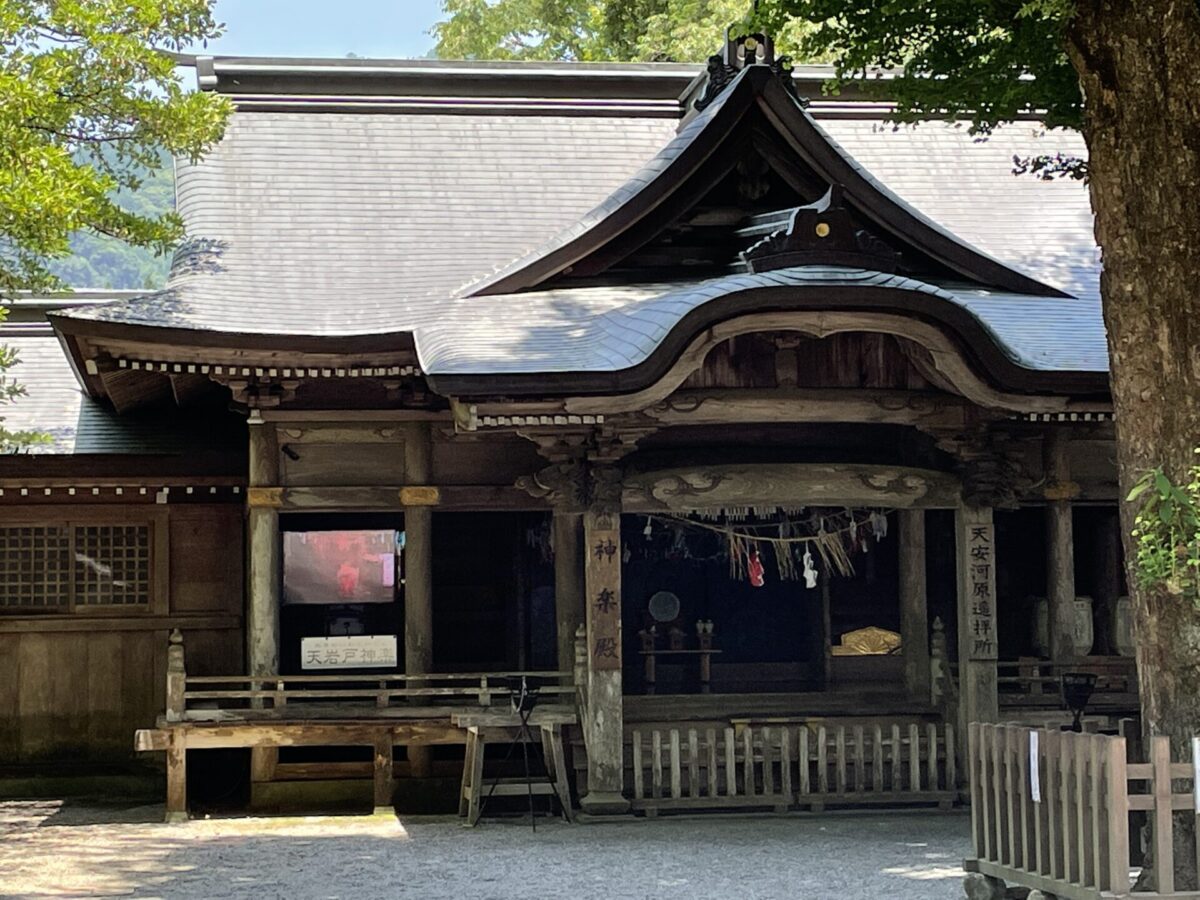 Another historical site in the Takachiho area is the Amano Iwato Shrine. This sacred place is dedicated to Amaterasu, the legendary sun goddess of Japanese mythology, and houses the mystical cave where she is said to have hidden from the world. Originally, the shrine consisted of independently founded eastern and western units which were later merged, and the cave can be seen from behind the western shrine across the river. To discover the cave, you need to join a tour led by a Shinto priest which runs daily and starts every 30 minutes.
Amano Yasugawara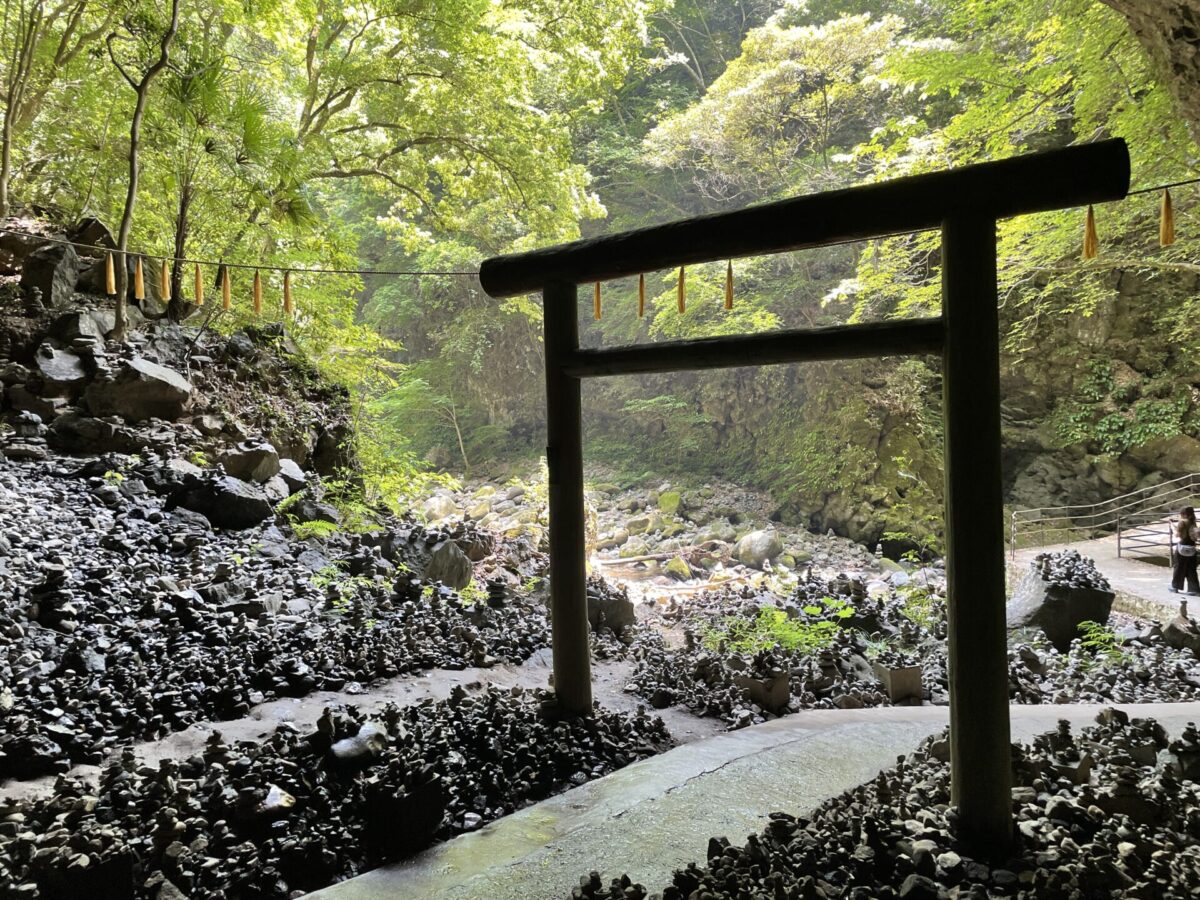 From Amano Iwato Shrine, it is a 10-minute walk downriver to Amano Yasugawara (天安河原). It is said to be a place where the deities would meet to discuss how they could persuade Amaterasu to come out of the cave. Once there, you will notice how the atmosphere suddenly changes and you will find yourself surrounded by the power of nature. Small stone pagodas are found everywhere as markers of this sacred place. These stone pagodas were built by visitors hoping that the gods would grant their wish and come true.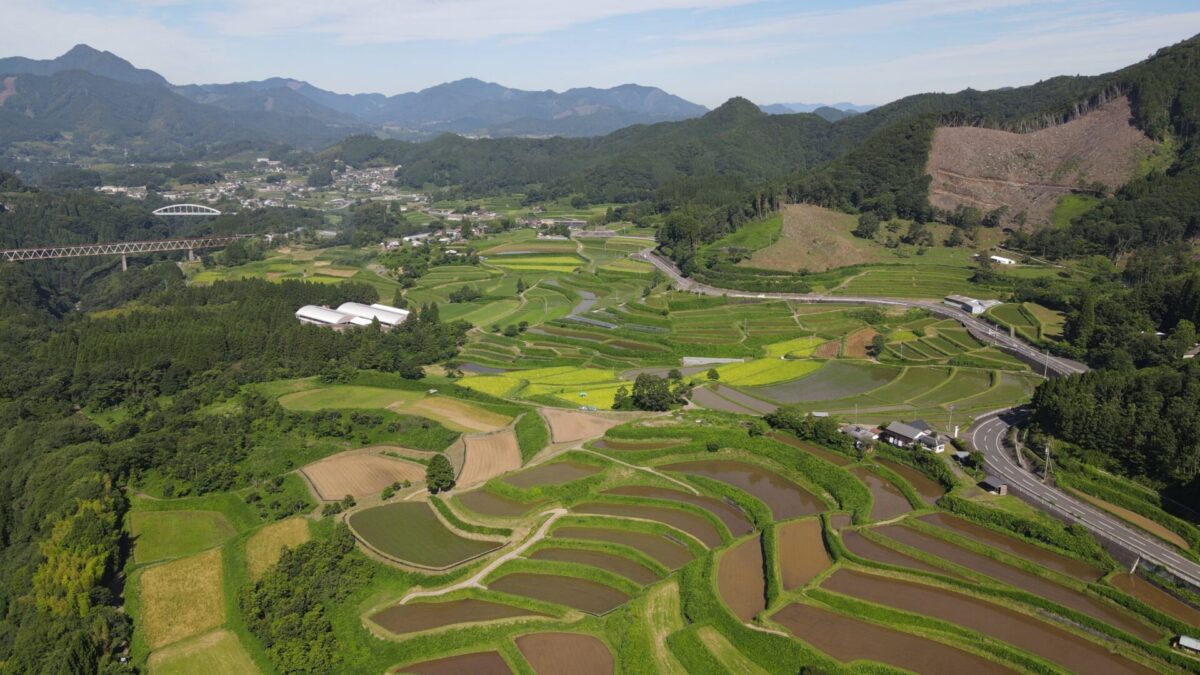 Officially selected as one of Japan's Top 100 Rice Terraces, Tochimata Rice Terrace offers stunning scenery all year round. Renting a car will allow you to easily access this beautiful place via Prefectural Road 7 from the Takachiho city center. At the beginning of summer, the local farmers start planting the rice and the fresh green plants are reflected in the water, creating a truly impressive sight. Autumn is also a great time to visit, as you can see the golden rice plants swaying in the wind, waiting to be harvested. This is where traditional Japanese landscapes have survived for centuries and are still an integral part of the lives of the local people.
Takachiho Gorge is a prime example of one of the many natural wonders Kyushu has to offer. To make the most of your visit to Kyushu, be sure to read our Best Places to Visit in Kyushu: Complete Guide to Kyushu that will help make your trip even more memorable!
Although Kyushu is a popular travel destination among domestic and international travelers, visiting here can be a bit challenging due to attractions in more isolated locations, as well as limited public transportation. If you're planning your first trip to Kyushu, be sure to check out our private guided tours in Nagasaki and Kagoshima!
travel to japan
Japan Merveille Voyage is a travel agency that offers guided tours throughout Japan.
From private walking tours to delicious food tours, we can help you put together the best tours just for you! If you want to explore Japan and learn more about the history and stories of each region you visit, our knowledgeable and friendly English-speaking guides will be happy to take you to the best places!
Also, we can provide any assistance you may need for your next trip to Japan, so please don't hesitate to contact us if you have any questions or need help!
Find the other circuits
▶Tourist Packages
If you want to make your trip easier, we suggest looking for packages. There is a wide range of packages to meet the needs of every traveler. Click the button below to find the best tour package among the various tour operators!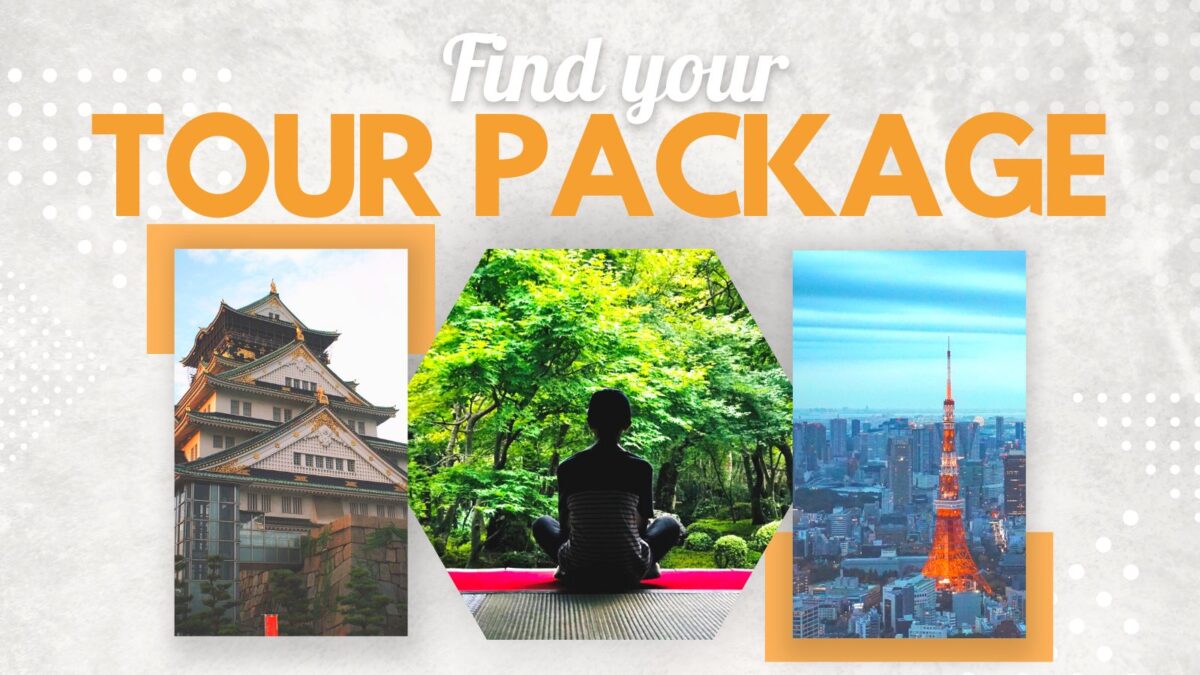 Follow us on Instagram, Facebook, Twitter and TIC Tac for more travel inspiration. Or tag us to be featured!
Have a good trip !