This post may contain affiliate links. When you click through and make a purchase, we may receive a commission, at no additional cost to you.
Head to Japan's westernmost island, Kyushu, for wonderful, nationally acclaimed ramen experiences. The main area of ​​Kyushu, like Tokyo is to the main island, is Fukuoka; a wonderful city with many activities to enjoy, as well as a host of other interesting areas within an hour or two. There's certainly no shortage of things to enjoy here, but you may be looking for a nice place to lay your head, so peruse our list of the best hotels to do just that in Fukuoka!
1. With the Fukuoka style
First on our list is the aptly named "With The Style" boutique hotel. Keeping a nice balance between earthy and herbal themes with contemporary fashion, this hotel offers a very elegant and pleasant experience. The lounge offers free drinks and snacks after check-in, and the rooftop hot tub is a great way to relax and settle in even more. The bedrooms are equally calming with herbal elements and deep, modern tones. The hotel's two restaurants offer a variety of Italian fusion cuisine, juicy steaks and well-matched sides. Since it is located in a very central area of ​​downtown Hakata, just a 5-minute walk from the Shinkansen station, you can easily navigate the city and easily access all its fun projects.
Reserve here!
2.Grand Hyatt Fukuoka
Step up your style and experience 5-star luxury in the same downtown neighborhood at the Grand Hyatt. A respectable name with unwavering guest satisfaction, Grand Hyatt plants a formidable stake in the Fukuoka hotel scene by offering exceptional service, a variety of amenities, boutiques and more. The rooms are elegantly furnished and are a dream to relax. Between the ideal location and the wide variety of things that the hotel offers, you will have no problem finding something to entertain you, comfortable, renovated or whatever else you hope to find on your vacation.
Reserve here!
3. Fukuoka Garden Terrace
Another hotel with an earthy style, but in a more tropical sense is the Garden Terrace. It's less of a boutique hotel like With The Style and more of a traditional western style like the Grand Hyatt. This bustling but tastefully decorated room swaps its location next to Central Station for a more panoramic view, overlooking North Bay and Nokonoshima Island. Also, it is quite close to the Fukuoka Tower. This choice certainly doesn't change anything else, as its 4-star rating and array of amenities more than make up for the slightly less central downtown location. An elegant swimming pool, jacuzzis, gym, Teppan-yaki kitchen and spacious rooms will ensure maximum relaxation, guaranteed.
Reserve here!
4. Fukuoka HOTEL BOOK LIGHT LAMP
Looking for something a little more humble without sacrificing any stylish and modern elements? LAMP LIGHT BOOKS is an excellent choice of a growing hotel chain that combines the style of a book cafe and a boutique hotel. The rooms are minimalist and very cozy, with fridges and flat screen TVs. If you like to read, you will surely feel welcome in the living room, where you will find a multitude of books, as well as freshly prepared meals from the cafeteria. The popular Tenjin area is just around the corner, so you can have fun in the city and still have good access to the rest of the places you might want to visit in Fukuoka.
Reserve here!
5. Hotel Miyako Hakata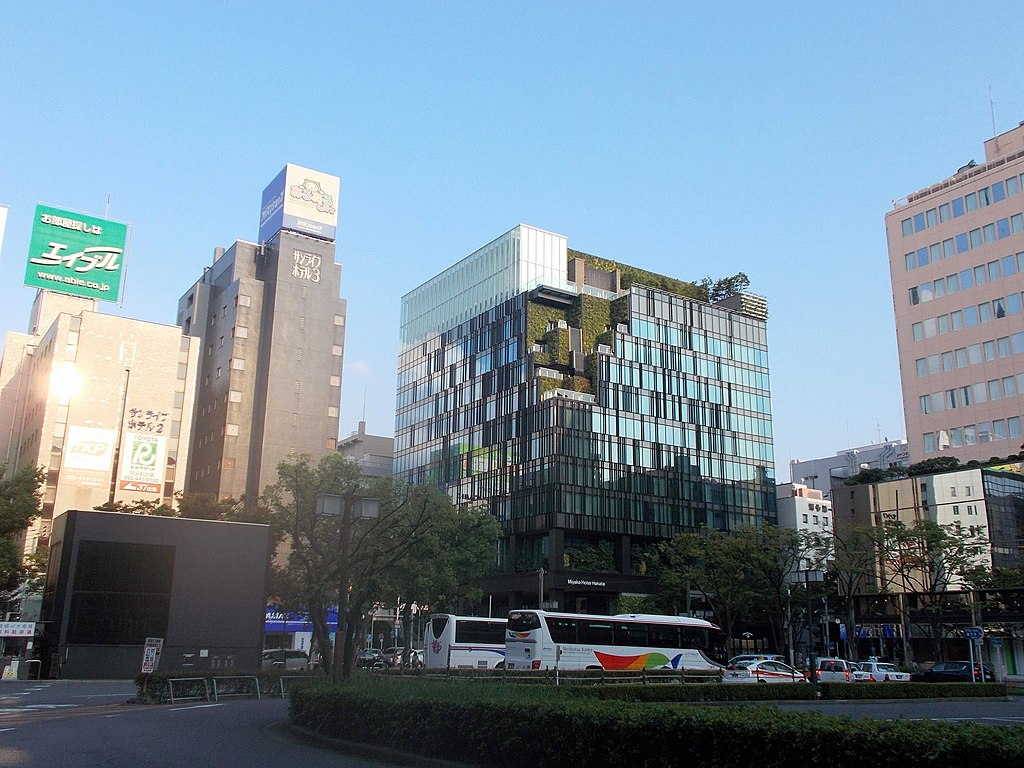 The Miyako Hotel is another luxurious 5-star option comparable to the Grand Hyatt. With undeniable architectural whimsy and an extraordinary interior to match, this option will provide you with a truly luxurious experience. The rooftop pool perched, securely of course, against the ledge is a sight to behold. The general atmosphere of the hotel is a balance between traditional Japanese elements and modern class. Be sure to take advantage of the public baths and yukatas, as well as Tocho-ji Temple and the nearby Tenjin area!
Reserve here!
6. Seahawk by Hilton Fukuoka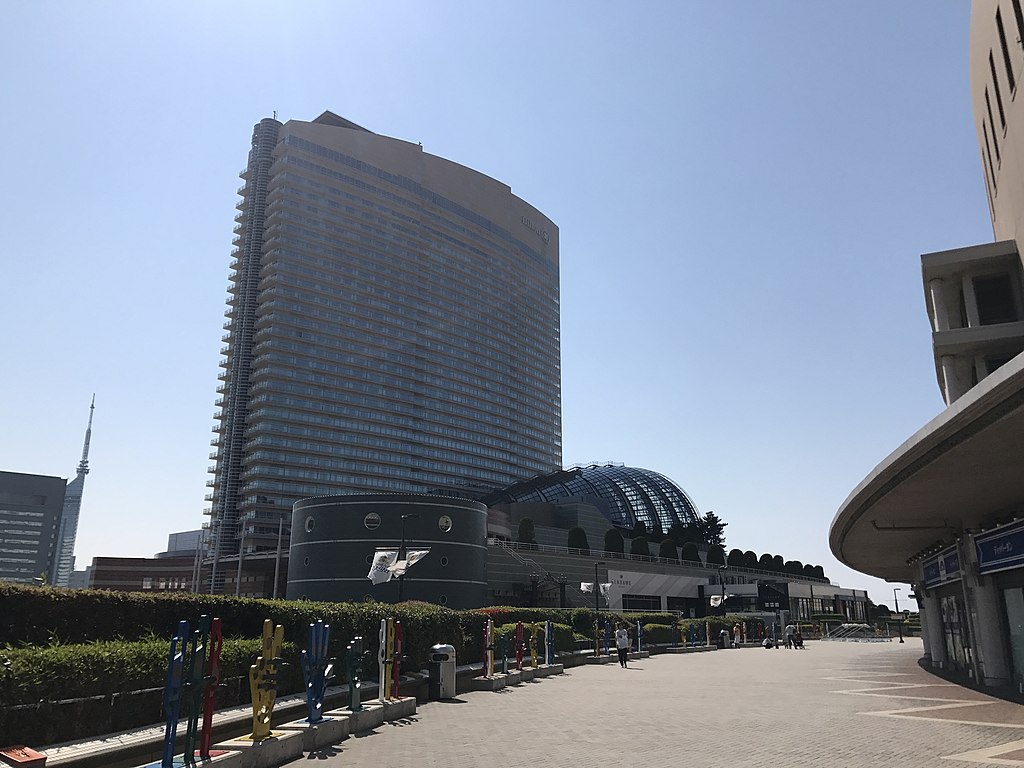 Another 5-star option that is sure to blow your mind, as well as being a great combination for any visitor to Seattle. The Hilton Sea Hawk offers pristine views combined with exceptional dining options. Similar to Garden Terrace, it's located by the sea and is well-rated for having window-side Jacuzzis as well as an outdoor pool. The interior is pristine, with a relatively European blended aesthetic that lends itself to modern luxury. This inclusive and amazing choice will surely leave you with a vibrant memory of Fukuoka.
Reserve here!
7. LE PREMIER BLOSSOM HAKATA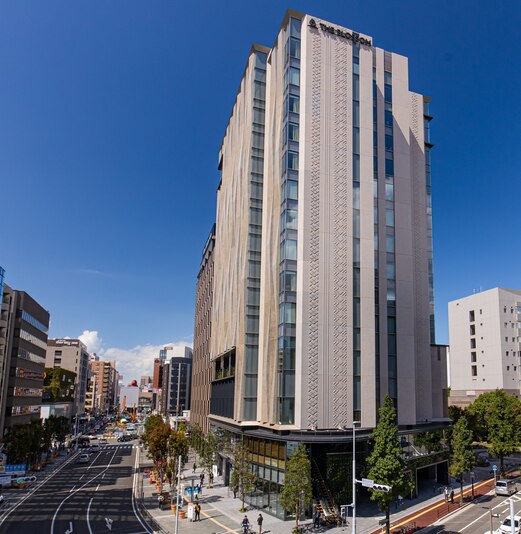 This elegant option near the Shinkansen station has a stylish artistic interior that invites the eye to take a pleasant stroll. The stone-like color palette is complemented by beautiful wood accents and creates a wonderful contemporary aesthetic that will have you relaxing at The Blossom in no time. Along with all the flashy features, this hotel offers exceptional service with all the essentials you'll need. The buffet breakfast is a wonderful and well-reviewed addition, not to mention the incredible views of the city from the rooms.
Reserve here!
A comparable option to Blossom, The Mitsui Garden Gion is artistically presented in the same way, but with more traditional Japanese decorative elements. The public bath is modern in design and offers its guests a wonderful view by the window. Of course, each room is equipped with its own bathroom and certainly reflects the hotel's 4-star rating. Similar to some of our previous options, the location is close to the Shinkansen station and offers a restaurant in the building.
Reserve here!
9. Grand Morning Hotel
A humble 4-star option that is somewhat comparable to the Lamp Light Books option, perhaps a bit more sophisticated, is Great Morning. This option is undeniably stylish and has a minimalist style, with rooms renovated to be particularly spacious and clean. This hotel eschews frivolity and focuses on a pristine experience for its guests and offers wonderfully reliable service. Some notable places of interest nearby are the Tsunashiki Temman-gu Shrine and the Hakata Museum of Traditional Crafts and Design.
Reserve here!
10. Solaria Nishitetsu Hotel Fukuoka
One last option before sending you to the wonderful city of Fukuoka is Solaria Nishitetsu. Another option complete with a modern, elegant and relaxing atmosphere, this excellent option offers a selection of western-style rooms that will keep you comfortable and relaxed. The two hotel restaurants offer a variety of meals; one option is a sophisticated steakhouse and the other is buffet style.
Reserve here!
Japan Merveille Voyage is a travel agency that offers guided tours throughout Japan.
From private walking tours to delicious food tours, we can help you put together the best tours just for you! If you want to explore Japan and learn more about the history and stories of each region you visit, our knowledgeable and friendly English-speaking guides will be happy to take you to the best places!
Also, we can provide any assistance you may need for your next trip to Japan, so please don't hesitate to contact us if you have any questions or need help!
▶Tourist Packages
If you want to make your trip easier, we suggest looking for packages. There is a wide range of packages to meet the needs of every traveler. Click the button below to find the best tour package among the various tour operators!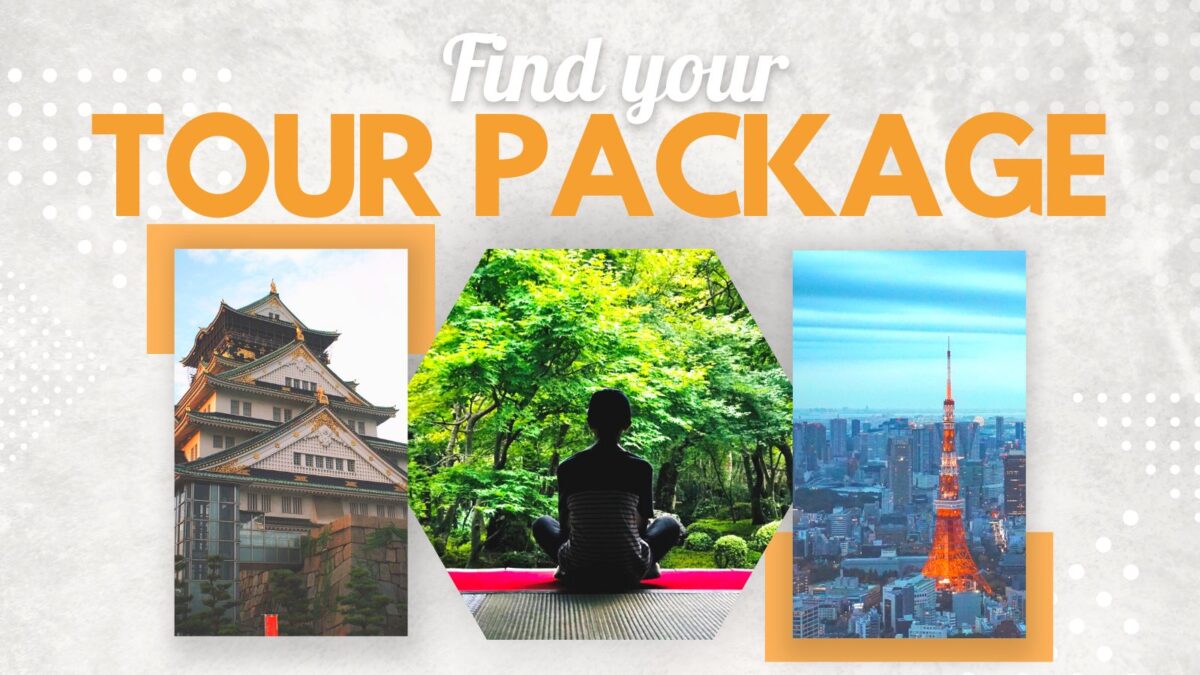 Follow us on Instagram, Facebook, Twitter and TIC Tac for more travel inspiration. Or tag us to be featured!
Have a good trip !
Stay informed about the best Japan travel tips, the most exciting things to do and see, and the best experiences to have with the Japan Wonder Travel newsletter. Once every two weeks, we'll bring you our latest content.
Other articles that may interest you